Minker Family Biographies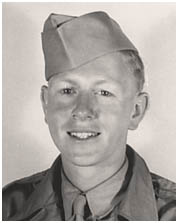 Ralph L. Minker, Jr., 1924 – 2008
Ralph L. Minker, Jr. was born June 16, 1924, in Wilmington, Delaware, to Ralph L. Minker, Sr., and Ruth Edna Jones Minker.  The family then moved to Concord, New Hampshire, where Ralph Minker, Sr., was a Methodist pastor.  In the mid-1930s, they returned to Wilmington, and by 1940 Rev. Minker was the superintendent of the Ferris School for Boys.
Ralph, Jr., known as Lee, was senior class president at A.I. du Pont High School where he also played football.  Against the gathering storm of war, he entered Dickinson College in Carlisle, Pennsylvania, in the fall of 1941.  Lee joined the Theta Chi fraternity and the debate club, pursued his studies, and was on campus at the time of Pearl Harbor.  Julia Taylor of Wilmington was his girlfriend while he was in college and throughout his military service.
When he turned eighteen in June 1942, Minker registered for the draft and was accepted into the Army Air Corps.  He received his orders to report to basic air cadet training in February 1943.  Minker progressed through each phase of pilot training, receiving his commission and wings on March 12, 1944.
By October of 1944 he was on his way to England as the commander of a  Flying Fortress,  a B-17 he named the Blue Hen Chick to acknowledge his Delaware roots.   Lt. Minker joined the 709th air squadron, 447th bomb group of the Eighth Air Force in October 1944.  He was based at Rattlesden AAF Base in Suffolk. Minker and his crew flew the required thirty-five missions, entitling them to come home.  Lee, however, signed on for a second tour.   He went on leave, then returned to fly the final two missions of the war.  The next week he flew Operation Chowhound, dropping food to the starving Dutch population.
Minker was the first pilot and commander of a crew of nine, flew thirty-seven combat missions to Germany, earned the Air Medal with five oak leaf clusters, and was promoted to captain – all before his twenty-first birthday.  He arrived home on August 31, 1945, and promptly returned to Dickinson College, completing his degree in 1947.
Following college, Ralph Jr. followed in his father's footsteps to Boston University School of Theology.  He was ordained a Methodist minister in 1951, serving eleven churches in the Peninsula Conference throughout his career.  He married Peggy Ann Reynolds on August 4, 1952.  They had two children. They were divorced in the early 1970s. From 1977 to 1984 he worked as a career counselor in Washington, D.C., returning to the pulpit in 1984.  Minker married Sandra O'Connell in 1980. They lived in Reston, Virginia, until his death on August 5, 2008.  His Washington Post obituary was published on August 19, 2008.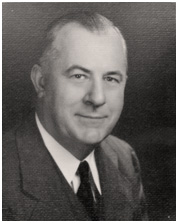 Ralph Leland Minker, Sr., father, 1897 – 1983
Ralph Leland Minker, Sr., was born in Maryland on November 22, 1897.  By 1910 the family was living in Wilmington, Delaware.  Minker attended Dickinson College, graduating in 1920, then went on to the Boston School of Theology.  He married Ruth Edna Jones on March 31, 1923. They had three children: Ralph Leland, Jr., Shirley, and Bernice.  After serving several pastorates in New England, Rev. Ralph Minker, Sr., became the superintendent of the Ferris Industrial School for Boys in Wilmington, where he served from 1936 through 1945. The family lived on the school grounds. Throughout the war he struggled to get appropriate staff for the school. He also served as part-time pastor at Grace Methodist Church, as Civilian Defense Warden for New Castle County, a fundraiser for government bonds, and was an avid fan of the Wilmington Blue Rocks baseball team.  Rev. Minker's letters to his son are filled with pride and advice on each step of his progress from private to a commissioned officer and pilot of a B-17. From the activities of the Ferris School to bond fund drives and commentary on the war, Ralph, Sr.'s, letters portray Wilmington civic life during the war years.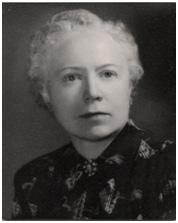 Edna Minker, mother, 1895 – 1980
Ruth Edna Jones attended Dickinson College in Carlisle, Pennsylvania for two years, from 1920 to 1922, an unusual accomplishment for a young woman at that time.  She married Ralph Leland Minker, Sr., on March 31, 1923, and began her life as a wife and mother.  Their first child, Ralph Leland "Lee" Minker, Jr., was born June 16, 1924, and Shirley was born December 7, 1926.  The family was completed with the birth of Bernice on November 22, 1928.   Shortly before her twentieth wedding anniversary in 1943, Edna Minker saw her eighteen-year-old son off to war.  When Ralph Minker, Sr.'s secretary left for service with the WAVES, she became a "working woman." Her letters are a collage of a full family life, replete with a son in the service, two teenaged daughters, a job as secretary at the Ferris School, and an active social and civic life in Wilmington.  She was the mainstay of the family, providing her son with encouragement, practical advice, and prayers for his safety. She bought Christmas and Valentine gifts for Lee's girlfriend, did his income taxes, mailed packages of cookies, and found scarce items such as camera film. Edna's 265 letters gave her son a strong link to the family and the Wilmington community.  She wrote to him several times a week for two and a half years, during eighteen months of training and eleven months of overseas duty in England. She rejoiced when he was safely home, back in college, and no longer in combat.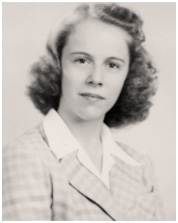 Shirley Minker, sister, 1926 – 2004
Lee Minker's oldest sister, Shirley, was beginning her last semester in high school when he left for the service in early 1943.  That June she graduated from Alexis I. du Pont High School, in a class bereft of boys, and went on to attend Dickinson Junior College in Williamsport, Pennsylvania.  She wrote encouraging letters to her brother and worried along with him about his progress during flight training.  Shirley's war-time letters to her big brother are full of sisterly teasing.  In her lighthearted manner she shared her experience of college life, singing lessons and performances, and new friends.  In the summers she sang with the Brandywiners, an organization that presented a large-scale musical production every summer at Longwood Gardens in Kennett Square, Pennsylvania, and contributed the proceeds to cultural, educational and civic causes throughout the Delaware Valley.  Taken together, her letters are a charming portrait of a young woman during the uncertain years of 1943–45.  Shirley's letters are also a record of the pervasive effects of the war on young people as she reported on friends in the service, the boys killed, wounded, or taken prisoner of war.  Shirley Minker married J. Newton Hunsberger (1923–2010) in 1952.  They raised their family of four sons in Wilmington where "Newt" was an engineer for the DuPont Company.  Shirley was a long-time member of the Grace Methodist Church Choir and was actively engaged in the Delaware arts community for decades.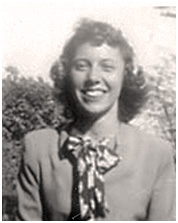 Bernice Minker, sister, 1928 – 2005
Lee's youngest sister, Bernice, was a teenager of fifteen when her brother left for training.  Bernice supplied the knock-knock jokes, humorous escapades, and a lively sense of fun.  In her letters Bunny shared her high school years, her transfer to Tower Hill School, singing with the Brandywiners, and trips to see her sister Shirley at college. Her description of high school life includes multiple activities that supported the war effort. She was always eager to cheer her brother up and looked for items to send in packages to him.  When the war was finally over, her vivid descriptions of V-E Day and V-J Day present the celebrations through the eyes of a teenager.  Disappointed that Lee did not make it home in time for her high school graduation, Bernice's teenage years culminated in the summer of 1945 with acceptance to college and the end of the war. She was married Dr. Paul Pettit. and they had two children.