Upcoming Events

The Rocks and the Underground Railroad
March 10, 2022 @ 6:30 pm
EST
Free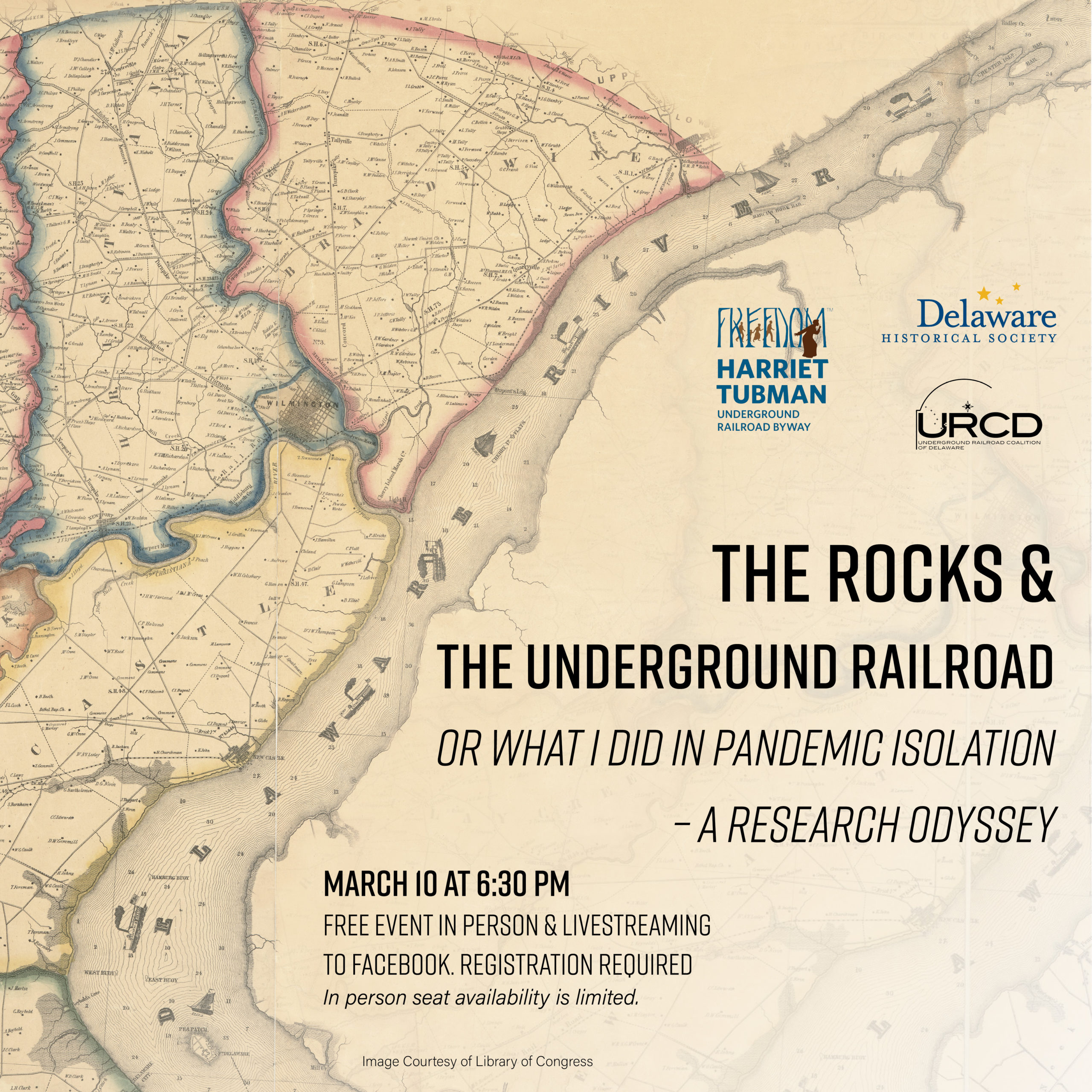 The Rocks and the Underground Railroad or What I Did in Pandemic Isolation – A Research Odyssey. 2022 marks the bicentennial of Harriet Tubman's birth. Join us as we celebrate Harriet Tubman Day and discover Wilmington's significance on the journey to freedom.
Please note: This is an in person event! Seating is limited. Registration is NOT required to view the program via live stream on Facebook.

Born enslaved in Maryland, Harriet Tubman successfully escaped bondage but returned repeatedly, risking her life, to lead her family and friends to freedom. Tubman was an associate and friend of Wilmington's Thomas Garrett, Quaker abolitionist and "stationmaster" on the Underground Railroad in Delaware, but they weren't the only Underground Railroad operatives in Wilmington.
The Delaware Historical Society invites you to a presentation featuring Debbie Martin, City of Wilmington Historic Preservation Planner and board member of the Underground Railroad Coalition of Delaware.
Debbie Martin began her foray into Wilmington Black American history with her first assignment as the City of Wilmington's Historic Preservation Planner – stepping in as the administrator for the City-sponsored feasibility studies that much later culminated in the establishment of the Mitchell Center for African American Heritage in 2016. Her next major assignment was to take over the administration of the fledgling Underground Railroad Coalition of Delaware project, supported by the Baker administration and the then-newish program of the National Park Service– the National Underground Railroad Network to Freedom. By the time this project was completed in 2009, it had established the Harriet Tubman Underground Railroad Byway (Delaware segment), produced a historic research context, and supported a number of programs and exhibits throughout the state. The Underground Railroad Coalition of Delaware became an independent, non-profit organization in 2012, and she serves on the Board of Directors. Also, by that time, she was under the spell of under-told history and there was no turning back.
Among other duties at the City of Wilmington, Debbie is responsible for federal reviews involving historic properties and a wide-variety of public history projects ranging from themed cycling tours, National Register nominations, a web-based Underground Railroad tour, and new public markers and panels on the city landscape.
Admission to program is FREE but limited to 40 people.
The program will also be livestreamed on Facebook @dehistory.
Related Events